Rule #1 of mountain biking: Look where you want to go.
But sometimes, it's nice to look back and see what you've accomplished, especially when you've made it down a particularly difficult section in one piece.
2017 was a big year of change for us. It was our first full year under the new leadership of Juliann Klein and Alexis Morgan and together, we've pulled off a handful of firsts:
Formed our first Board
Achieved official non-profit status, i.e. we're now a 501(c)(3) entity
Started the Race Curious program
Implemented a Guides Training program
Held our first pizza fundraiser
Threw the biggest party ever, where all of you helped us raise $4000
Through all these new activities, our main focus remains firmly on our core activity: The Girls Rock monthly ride. As long as our lady tribe keeps showing up, we'll keep on delivering the goods. Here's a quick look back at all the rides we've shared.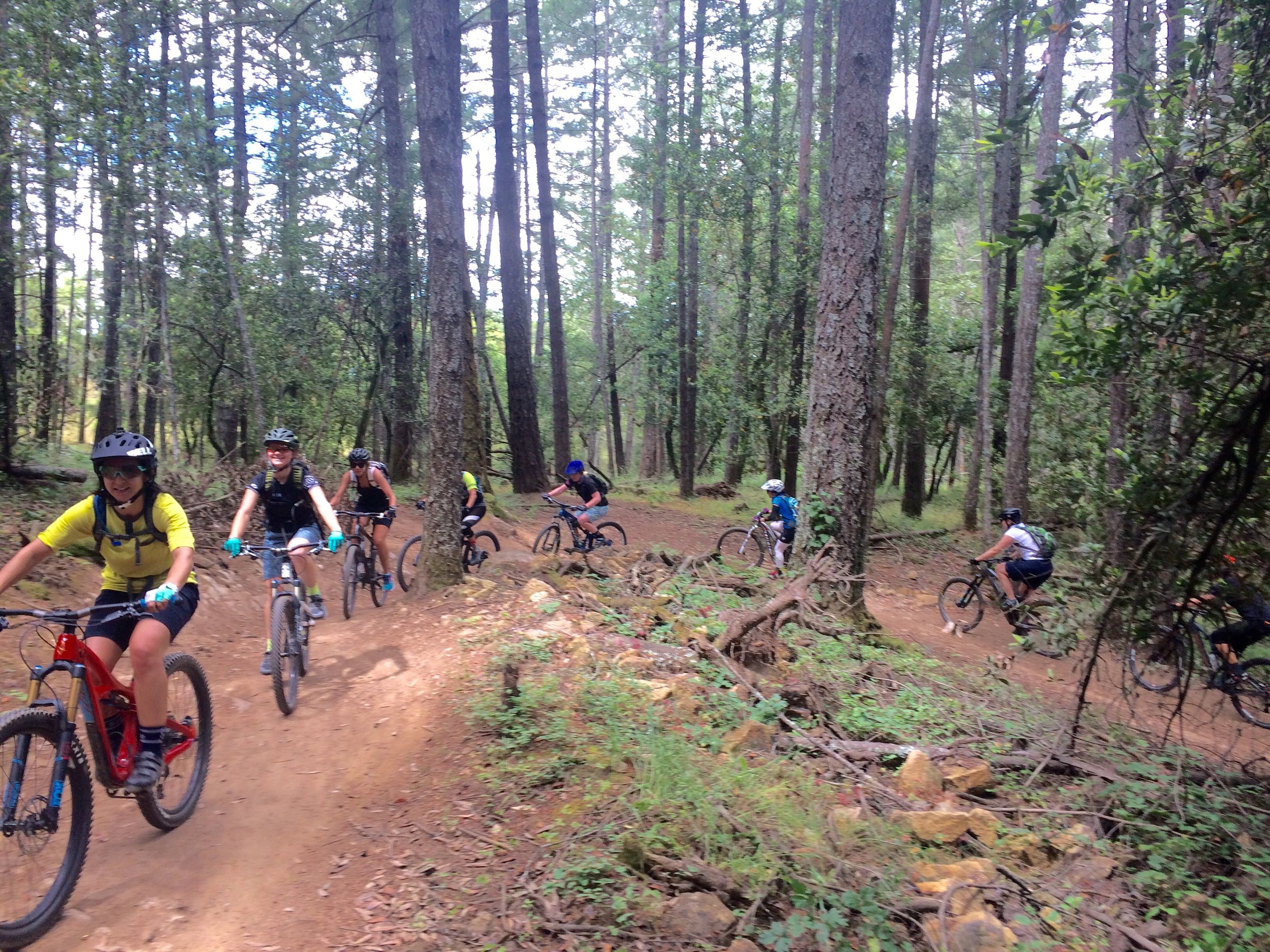 We'd like to take the chance to thank and offer up a shout-out to all the brands, shops and groups that have supported our rides, like: Bell, Fox Shocks, CamelBak, Clif Bar, Ibis Cycles, Juliana Bicycles, Bay Bikes, Bicycle Trip, MBOSC, MORCA, REMBA, Simply CPR Training, Trail House, Spokesman Bicycles, Stockwell Cellars, Trail Head Cyclery, Bike Station, Woodstock Pizza, Venus Spirits and Zizzo's Coffee. Ladies, please keep showing these good people your support, just as they've continued to support us.
We were also touched by the generosity of all these people and businesses who came out in full force to make our year-end party such a success: Abby Hippely, Avon - Veronica Ott, Bell Helmets, Bicycle Trip, Buddy Pegs - Jannine Fitzgerald, burger., CalStar, Cam Day, Campbell Steers, Dave Robinson/Ride guides, DJ G-Stone, Dunkin' Donuts, Epicenter, Family Cycle, Fox Shocks, Ibis, Iconic Sport, Katie @ Cielo Salon, Krista Gray, Lauren Junker/Totally Tubular, Leslie Chow and Kelly McWaid, LipSense Courtney Goodwin, LulaRoe (Lauren Bowden), MBoSC, MJA Vineyards, O'Neill Yacht Charters, Oasis Salon - Cindy Lewis, Lisa Sabatino, Pamela Freitas, Savannah Meyer, Paint With Friends, Ride Like A Ninja Mountain bike clinics, Rodan & Fields, Safeway @ Mission St SC, San Jose Sharks, Santa Cruz Mountain Brewing Co., Sarah Hansing, SCMB, Sharon Vizcarra, Smokin' Mary, Specialized, Spokesman, Starbucks, Stockwell Cellars, Suzanne Zeber, Suzie Thomas/This Tiny Ocean, Terry Way Photography, Trader Joes Aptos, Trail Head Cyclery, Trek Dirt Series and Verve.
And to all our rad lady riders, thank you for showing and blowing up (in a good way!). Our numbers keep growing, so we think it's safe to say we're doing something right.
For the number crunchers, here are some fun stats:
We love you all! Your presence and happy faces are, quite literally, the reason why we keep on plugging away behind the scenes.
We've got a lot in the pipeline for 2018 and all of us are hard at work, making sure it's another banner year for Girls Rock. Stay tuned and as always, thank you for sharing your ride with us!
Love and Trails,
Girls Rock
P.S. If you've been riding with us for a while, why not make this year different and volunteer with us? We could always use more help!
Grace Chua is an escapee of Advertising, saved by mountain biking. She now pays it forward through volunteering with Girls Rock. Follow her love for bikes, cats, food and travel here.